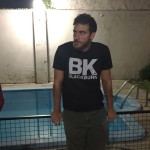 Rodrigo Nicolás Lagos, was born in 1993 in Buenos Aires, is Biochemistry (2018)  from the Faculty of Pharmacy and Biochemistry (FFYB) of the University of Buenos Aires (UBA).
He is currently doing his doctorate at the LABORATORY OF DRUG TRANSPORTERS PHARMACOLOGY with a CONICET scholarship under the direction of Dr Carolina Ghanem and Dr Julieta Imperiale as co-director.
Its subject of study is "Role of the erythroid nuclear factor type 2 (Nrf2) in the modulation of Mrp4 in pancreatic cancer. Development and nanotechnological optimization of its therapy".
During free time he enjoys music and football.
Phone: +5411 5287-4524
Mail: rodrigolagos19@gmail.com