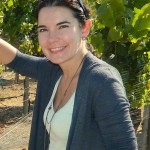 Sara Sanz Blasco, Ph.D. was born in Valladolid, Spain, where she graduated in Chemistry Sciences at the University of Valladolid in 2004, and subsequently completed a Master's in Experimental Chemistry in the Inorganic Chemistry Department at the Faculty of Sciences.
In March 2009 Sara earned her Ph.D. in Biochemistry and Molecular Biology from the University of Valladolid. Afterwards she moved to California, where she did her postdoctoral studies at Sanford-Burnham Research Institute (La Jolla, California) under the supervision of Dr. Stuart Lipton.
In October 2013 she became a member of the LABORATORY OF EXPERIMENTAL PARKINSON at ININFA, where she is currently an Assistant Researcher (CONICET) under the direction of Dr. Oscar Gershanik.
She enjoys spending her free time playing with her son Leo and visiting new places. She loves music concerts and good music and movies.
Phone: +5411 5287-4524
Mail: sarasanzbl@gmail.com
Links
http://www.ncbi.nlm.nih.gov/pubmed/?term=sanz-blasco+S